Another rock & roll year in the books for building brands, conjuring up questionable great ideas, and slingin' websites. During this time, we like to take a few minutes to reflect on how we started, where we're at, and the roads we'd like to travel in pursuit of the next year's adventures.
2017 Milestones
Kicking it off – we celebrated two years of operations! When we originally sketched out the roadmap for the business, we planned for years down the line, but we really didn't know what would happen along the way. We're so fortunate to have such amazing client partners, and even more grateful for the friends and family that have supported us on this adventure.
With more growth, we were able to grow into our studio space, add extra room for our crew, and welcome in other like-minded designers to cowork, and collaborate on projects.
Our studio was recognized as a 2017 Economic Champion by CenterState CEO, at their annual Economic Champion Luncheon.
We sponsored the 8th annual SyracuseFirst Buy Local Bash – an event that brings community members and local merchants together for an evening of shopping and tasting, to highlight the locally-owned, independent businesses of Central New York.
Our buddy Tommy Lincoln at Stay Fresh Studios held the first event of his Stay Fresh Speaker Series, bringing the big man Aaron Draplin to Syracuse. We were able to jump onboard as one of the sponsors for the event, along with some great local agencies and schools.
We participated in ABC Creative's '24 Hour Brand Bash' – an overnight, overall, comprehensive rebrand of a deserving nonprofit. Calling this a design "sprint", would be like calling an ultra-marathon a "fun run". ABC Creative has been doing these for years, and with each year comes new creative solutions to brand new challenges. We were more than happy to jump onboard and assist with their rebrand of Oswego Industries. It was 24 hours of brainstorming, laughs, design, eating way too many Starbursts, and drinking far too much coffee, but damn…it was worth it.
Speaking of sprints and fun runs, the entire team at The Lab participated in the annual J.P. Morgan Corporate Challenge, a 3.5 mile walk/run, in Syracuse, New York.
3.5 miles definitely wasn't enough to satisfy the crew. So, we participated in our first ever Ragnar Trail Relay with all members of The Lab, as well as some close friends and family. This overnight trail kicked off on Friday morning, and concluded on Saturday afternoon, at Wawayanda State Park. The damage: a few bruised shins, a blackened toenail, lots of carbs consumed and even more good times were had.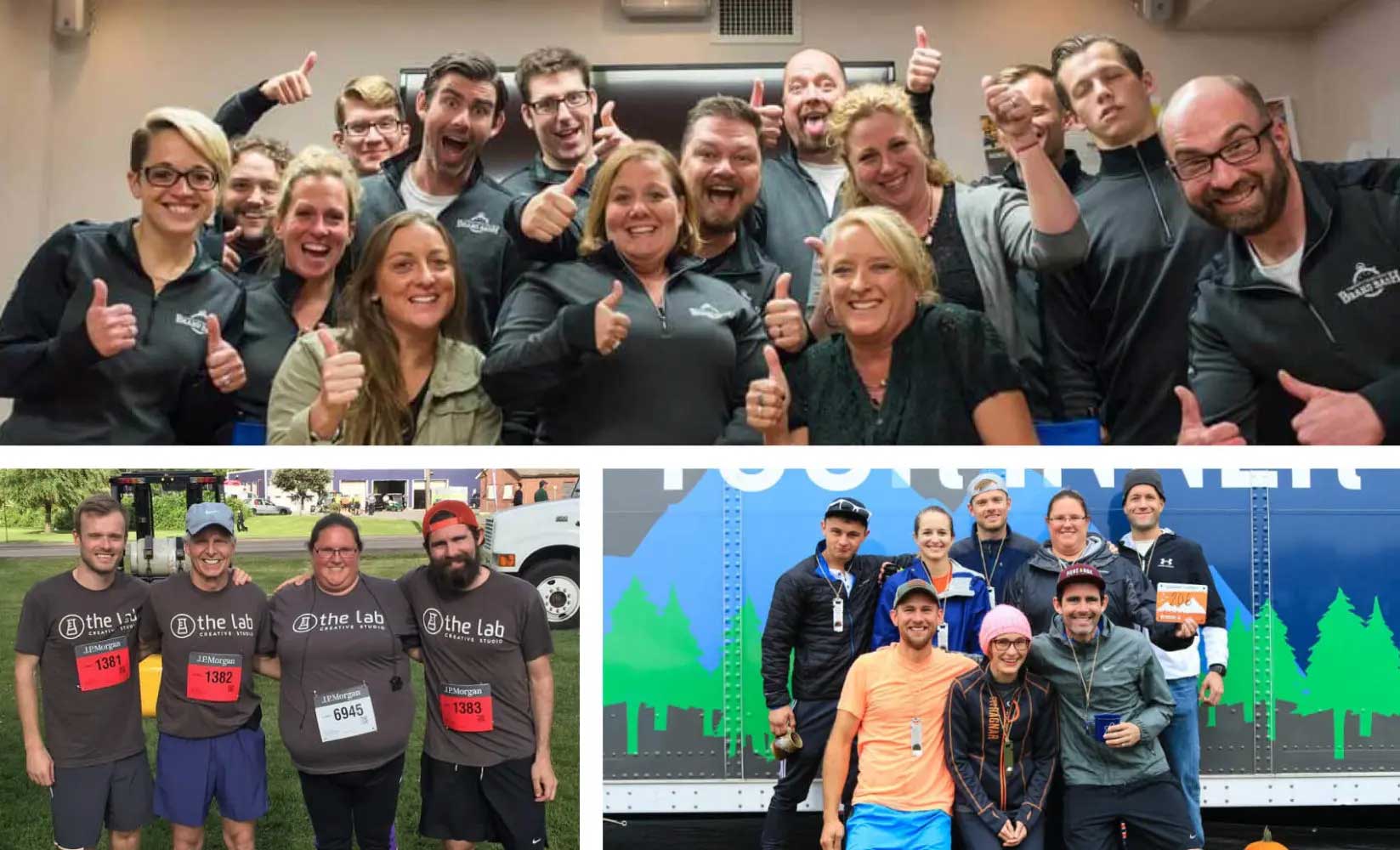 Our Client Partners
We've been truly honored with some great client partnerships, and we'd like to say 'Thank you' to all of our clients from the past year. Some that we want to highlight are…
Cayuga Milk Ingredients
NDG Student Living
Runkeeper
Pure Adirondacks
lululemon
War Horse Brewing Co.
CoughlinGiambrone
Original Grain
Spark.Orange
Great Flats Brewing
ProZ.com
Montezuma Winery
Paychex, Inc.
The Lodging Kit Company
Brookland Capital
…and many, many others. Thank you so much for choosing to work with us!
Where and Who We Work With
While the majority of our client partners are based in the good ol' Upstate area, a good amount of them are based outside of New York state. Still waiting on you to call us, Hawaii.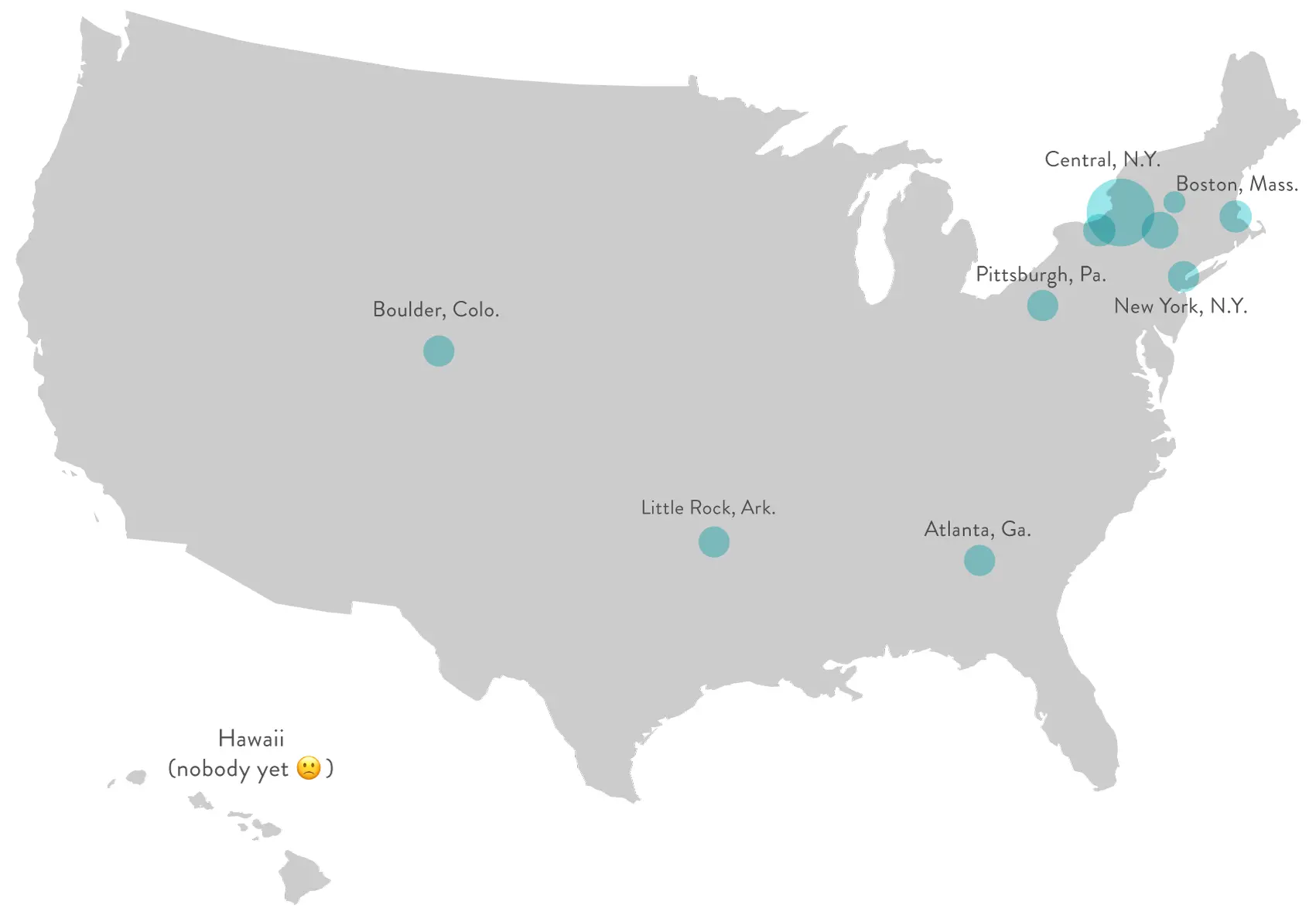 While the geographical locations are pretty diverse, we wanted to run a report that detailed the different industries where our clients work.

And this, right here, is why we started this studio. We wanted the diversity of new projects, new clients, and new challenges. Of course, we have our specific brands and industries that align perfectly with us, and love working on them every day. But there's nothing more rewarding than starting something new and unique, and working in a space that you've never worked in before. We're very proud of the work that we've done this year, and all of the different industries that we've worked across.
Project Highlights
Not even close to all of this year's work, but a few of the Project highlights from 2017 are posted below. For some specific case studies, be sure to refer to the Work page (and come back often, because we're trying to update it more consistently).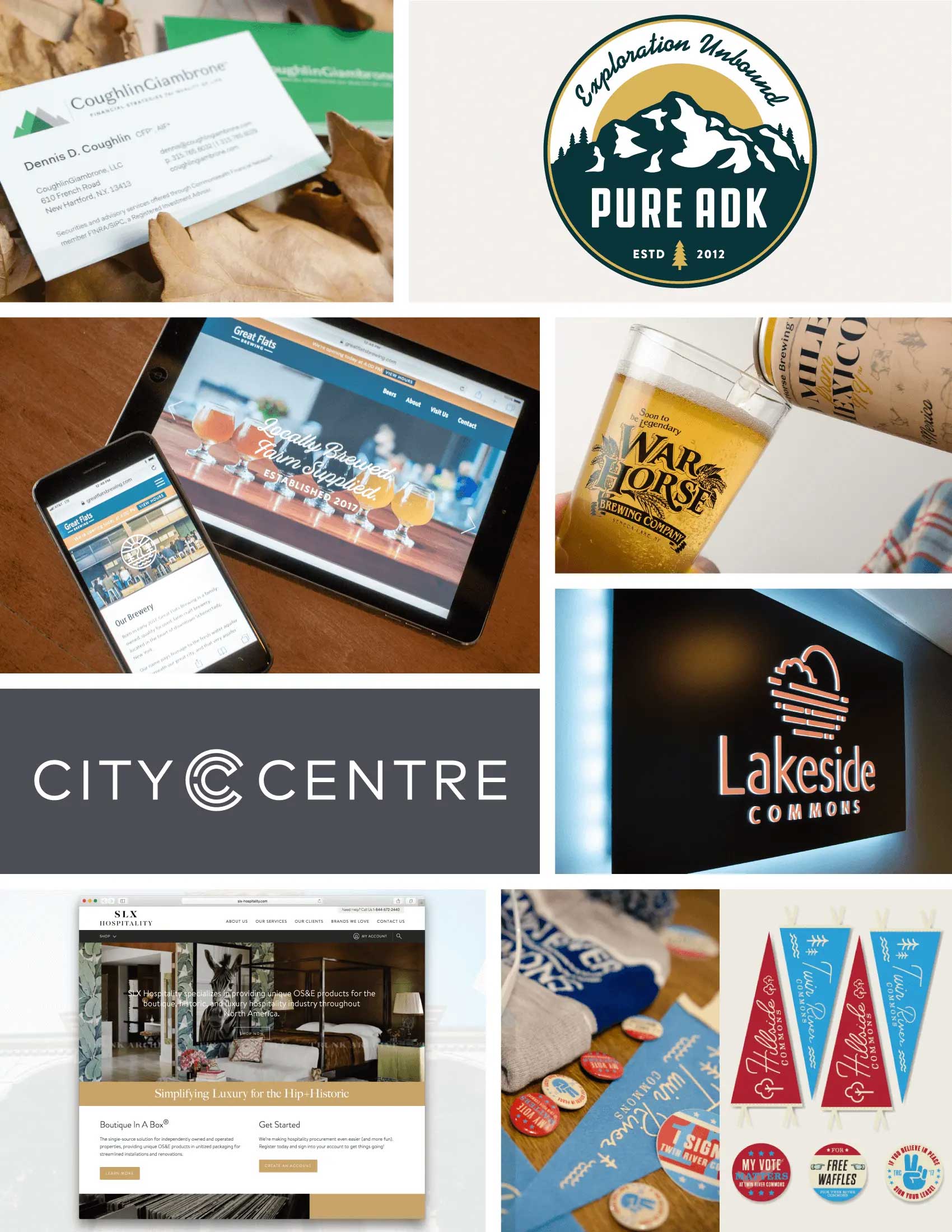 The Road Ahead
As we continue to shape and refine our process, adding new skills to our studio and modernized tools to our workbench, we're looking towards adding other unique ways to help our current client partners, and welcome new ones to the fold.
Building Products?
Working with startups and like-minded entrepreneurs has taught us quite a bit in the last year. While working on a few projects, we found ourselves thinking "It'd be great if there was something that just managed this task for us" or "Our client could save time and hit a larger audience if something like this existed". We're currently in the exploratory phase for developing a product that we believe could be huge benefit for a specific Northeast industry, as well as a unique product that could help speed up the process for standing up custom developed WordPress websites. We'll be happy to post more about those two items as they roll out in the coming months.
Community Laboratory
Browser testing is a huge part of our design process. While there are several products out there that offer testing services across several different device emulators, we've found that the most accurate experience is to test on actualhardware. Having said that, we've built a small device lab in our Studio, thanks to inspiration from our friends over at adjacent. We're in the process of adding more and more devices to this experience testing lab, and we're happy to open this up to the designer community to use in the coming year. Book a time, come on by and use test lab for yourself.
Growing the Team
We love meeting new designers, creatives, makers, and like-minded adventurers. So as we move into 2018, we're looking into expanding new roles for our team, and new ways to connect creatives around the Northeast.
Our focus has always been: find excellent client partners, build great relationships with those partners, do work that we're proud of, and send it. We're coming into 2018 with an even sharper focus, and a whole bag of exciting projects that we can't wait to get started. Thank you, all, for your support, guidance, and encouragement along the way. As this exciting year comes to a close, we're even more excited for the next.
Cheers!